Polygon is compatible with the Ethereum network and allows scalability and adaptability of the main net. Now Polygon has two new roll-ups. The first roll-up runs the existing Ethereum network and the second roll-up distributes multiple off-chain exchanges.
Previously it was known as MATIC; later, it was rebranded as Polygon with a native coin called MATIC. This digital coin is used to pay fees on the network. Ethereum is one of the top blockchain networks, and Polygon solves all the issues related to this network. That is why Polygon became popular within a few years.
Many people believed Ethereum had drawbacks- it raised the transaction costs of the network, and many people observed a slight decrease in scalability. Polygon comes with solutions.
It allows the users to run Ethereum based decentralized apps on the MATIC sidechain. The best part is that it is cheaper and more convenient than other networks.
It has a software development kit used to build decentralized applications on the sidechain, compatible with Ethereum's main net. Developers can customize the blockchain on the sidechain and connect it with the main blockchain.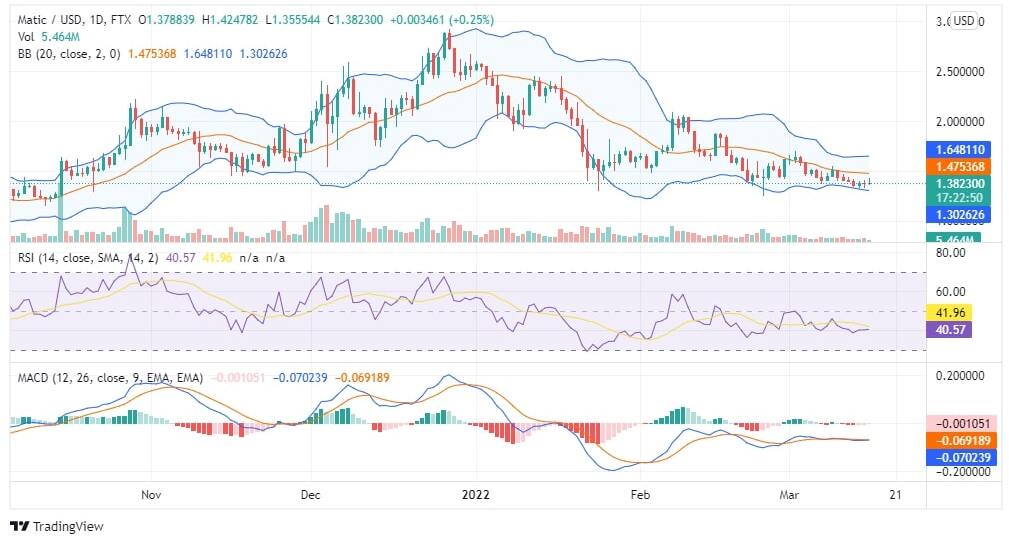 At the time of writing this post, MATIC was trading around $1.39. From the first day of 2022, it has been moving in a downtrend. Interestingly, on December 26, 2021, it formed a triangle from a high of $3.86 to a support level of $1.35. However, the $1.60 level is strong resistance on the upper side.
On the daily chart, MACD is neutral, but RSI and Bollinger Band are bearish. Now candlesticks are forming in the lower half of the Bollinger Band, so we think it is an excellent time to accumulate some coins. Moreover, it may break the level on either side. Find more details regarding the possible price levels of MATIC here!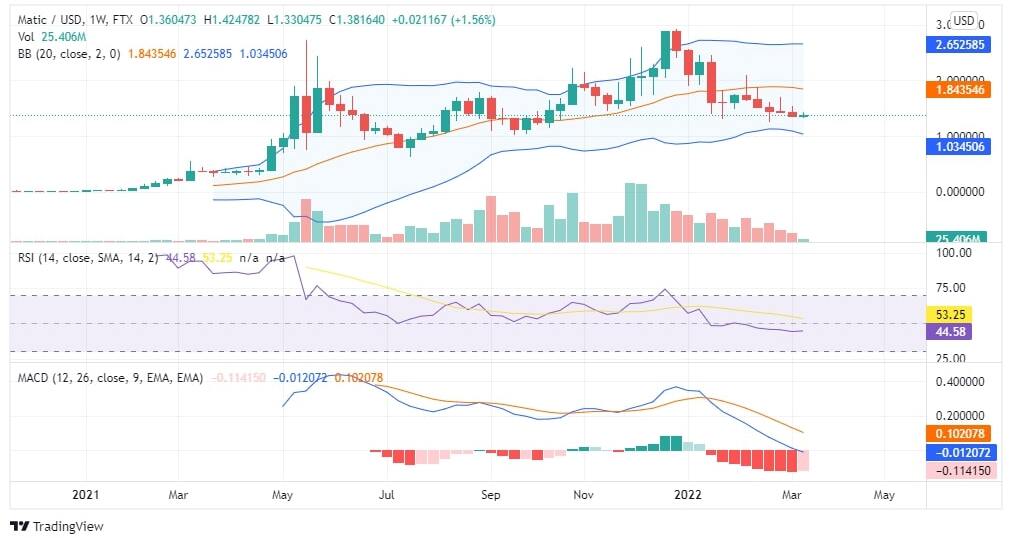 MATIC formed higher highs and higher lows on the weekly chart since last July, but it is currently in a downtrend. The technical indicators are bearish- the RSI is around 40, but MACD and BB reflect bearishness. Still, it is an excellent opportunity to buy more coins because it has the potential to grow, and it solves a genuine problem in the crypto world.
The chart is suitable for both long-term and short-term investments. If you have been waiting for a long time to buy MATIC, then your time has come- start your investment journey today!